Search Engine Marketing / PPC Perth
Online advertising offers unmatched potential for actively promoting your brand, service or product to your ideal customer.
The potential for laser targeting with digital advertising is unparalleled, from geographic and demographic, to interest based, purchase history, and re-targeting those who have previously visited your site.
However, the platforms that make online advertising possible are constantly changing, improving, and rolling out new features.
If you can't keep up with the speed of change you risk being left and wasting advertising spend.
I have three questions for you:
Do you have the know-how, skills, and resources to undertake it yourself?
Can you justify hiring an employee to undertake the services for you?
Can you afford to hire an agency?
If you answered no to the above, then you should consider working with a freelancer – like me!
I partner with businesses to provide the following services that deliver results and justify your investment.
The types of online advertising services I provide include:
Search Advertising – Advertising on search engines, such as Google, Bing, Duck Duck Go.
Display Advertising – Banner advertising on content sites, online magazine, blogs, news sites.
Video Advertising – Video ads displayed on sites like YouTube and social media.
Mobile Advertising – Advertising within mobile apps, games, videos.
Remarketing – Displaying ads to visitors who have been to your site previously.
Programmatic – Advertising utilising algorithmic purchasing of inventory in real time.
Social Media Advertising – Advertising on social media platforms such as Facebook, Instagram, LinkedIn and more.
My online advertising process typically looks like the following: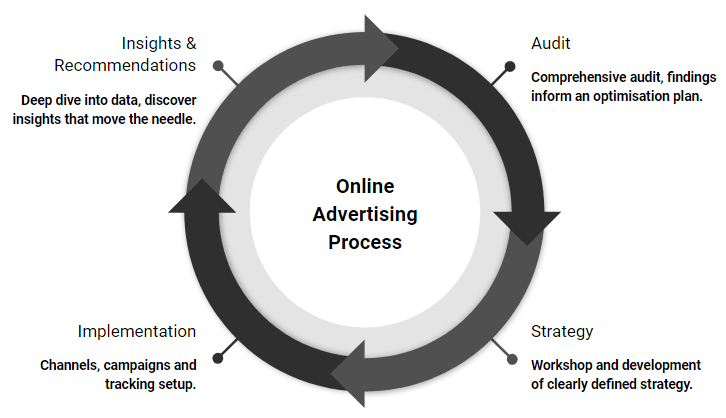 If you'd like to know more or discuss advertising for your site, get in touch today.