Freelance SEO Perth
Do you know that upwards of 90% of online experiences begin with a search engine?
However, over 80% of people will view fewer than the fist 10 search engine results.
This means that if your website is not ranking at the top of search engines, it simply won't be found.
Visitors actively seeking the products or services you offer may discovering your competitors.
Search engine optimisation is the key to unlocking those prized top positions.
But, SEO is complicated. It's involved, technical, and a long-term ongoing process.
I have three questions for you:
Do you have the know-how, skills, and resources to undertake it yourself?
Can you justify hiring an employee to undertake the services for you?
Can you afford to hire an agency?
If you answered no to the above, then you should consider working with a freelancer – like me!
I partner with businesses to provide the following services that deliver results and justify your investment.
The types of search engine optimisation services I provide include:
SEO Audits: Comprehensive on and off-page search engine optimisation auditing. Audits inform the actions required to form a plan of action to fully optimise a website for improved rankings, and in-turn, search engine traffic.
SEO Strategy: SEO strategy documents the process to be undertaken during initial, and on-going search engine optimisation. It provides full transparency of the work to be completed as well as providing a roadmap for results.
Keyword Research: Undertaking extensive keyword research for use in search engine optimisation. Utilising multiple tools including, Google Keyword Planner, SEMRush, and question-based search query keyword tools. Data extracted includes query search volume, difficulty,
SEO Fundamentals: Titles, metas, image alt tags, content optimisation, website and URL structure, internal and external links etc.
Technical SEO: XML Sitemaps, schema markup, site security, page speed, responsive / mobile device optimisation etc.
Local SEO: Local business schema, Google MyBusiness, local listings, on-page optimisation, reputation monitoring etc.
Training / Guides: Custom training and SEO guides for those who want to know how to optimise additional new content going forward.
My search engine optimisation process typically looks like the following: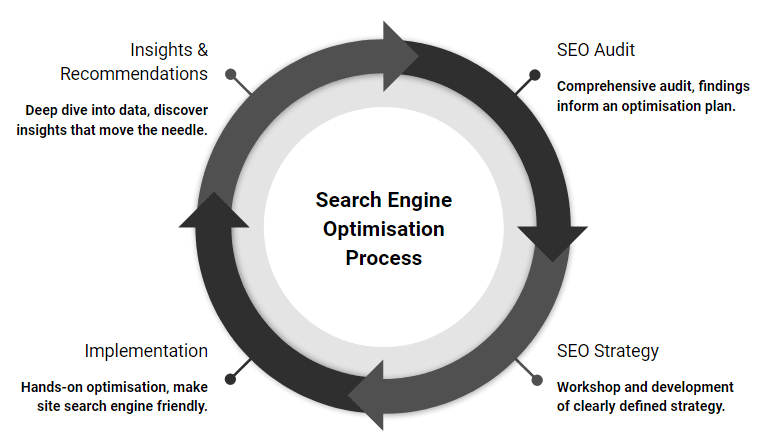 If you'd like to know more or discuss SEO for your site, get in touch today.